Razer Pro Type Ultra and Pro Click Mini have just been announced and, needless to say, they've definitely piqued our interest! They're not the kind of peripherals that Razer is best known for (in terms of aesthetics), but are nonetheless stunningly beautiful and a breath of fresh air!
Both products are productivity-focused which means they're not going to be quite as alluring for those who tend to prioritize gaming above all else, but they'll definitely suffice for the occasional Battle Royale or a fast-paced deathmatch!
These are tools geared towards creators and are more in line with the Razer Book than the Razer Blade, both in terms of target demographic and overall aesthetics. Still, don't let their appearance fool you — they have many of the bells and whistles you'd want in gaming-grade peripherals and are therefore a stellar option regardless of your workflow and use-case scenario!
Razer Pro Type Ultra | Best of Both Worlds
This particular model will come equipped with Razer's latest and greatest silent mechanical switches (Yellow, Linear) along with sound dampening foam and a cushioned wrist wrest. Better yet, you'll be able to connect it to up to four devices via Bluetooth, Razer Hyperspeed, or USB. As for battery life, it's rated for up to 214 hours (Bluetooth) or — in case you opt for the 2.4Ghz wireless connection — a slightly less impressive (but still perfectly sufficient) 207 hours.
The keys themselves feature white backlighting with the switches being rated for up to 80 million clicks. Respectable, to say the least! It has two flip-out feet for height adjustment, a USB-C port, and even a place for you to store its included USB dongle!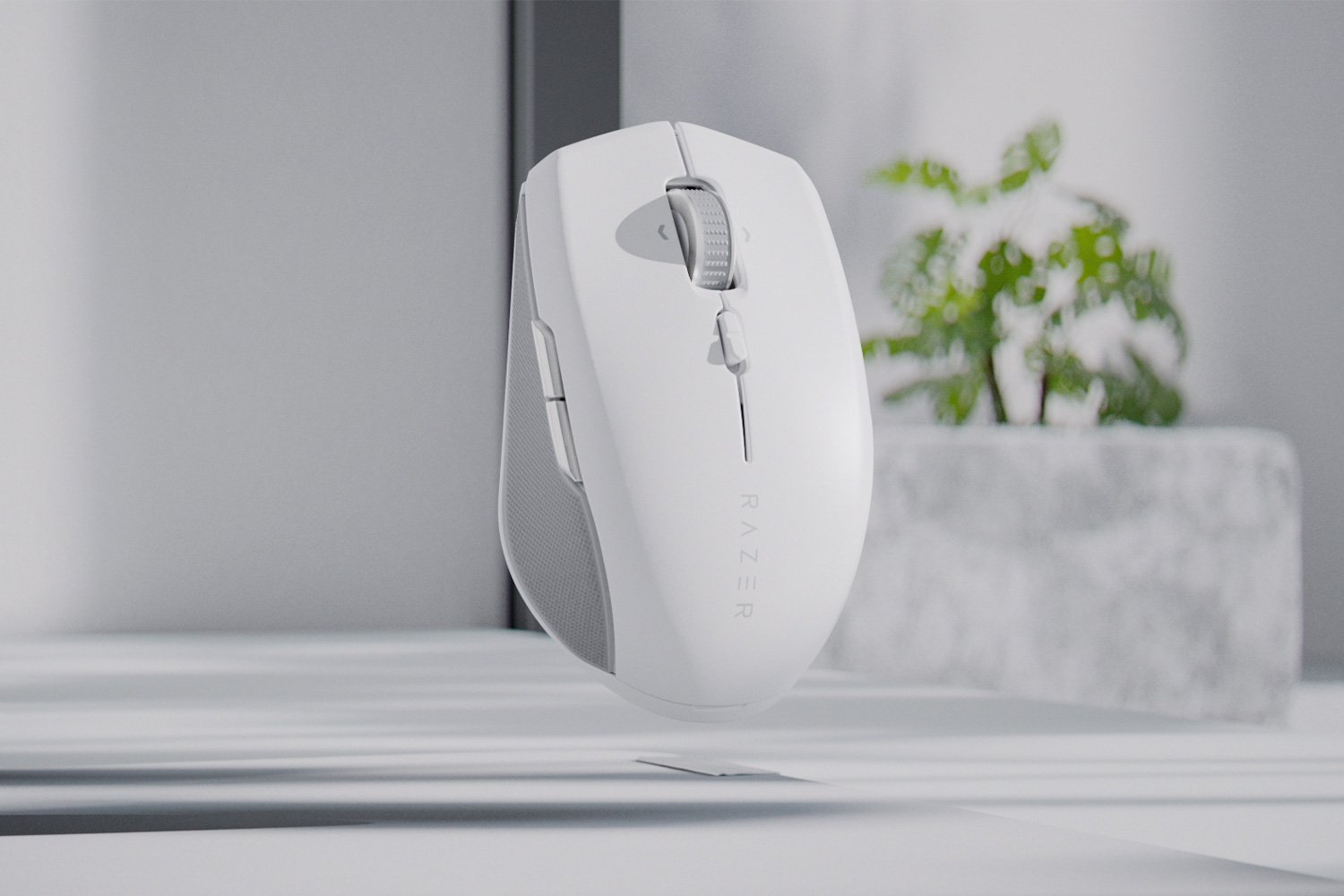 Razer Pro Click Mini
Razer Pro Click Mini | Equally As Beautiful
The Pro Click Mini has been envisioned as the perfect companion to the Pro Type Ultra, and it's also been refined and improved over its predecessor. Razer has decided to include its silent switches in the Pro Click Mini as well which should result in as silent an experience as possible. The switches are rated for up to 15 million clicks whereas the scroll wheel features three distinct modes: free-spin, tactile, and tilt-click (in case you need to scroll horizontally for whatever reason).
In terms of connectivity, you'll have two options: Bluetooth (725 hours of battery life) or Hyperspeed (465 hours). The latter is obviously better for gaming as it'll deliver the lowest possible latency, but it's good that you won't be "forced" into just a single mode of connectivity. That way you can prioritize what you need most: performance or battery life.
The Razer Pro Type Ultra is currently available for pre-order on Razer's website for $160 (shipping starts on November 19th). The Pro Click Mini, on the other hand, can already be purchased for a much more modest (but still premium) $80.